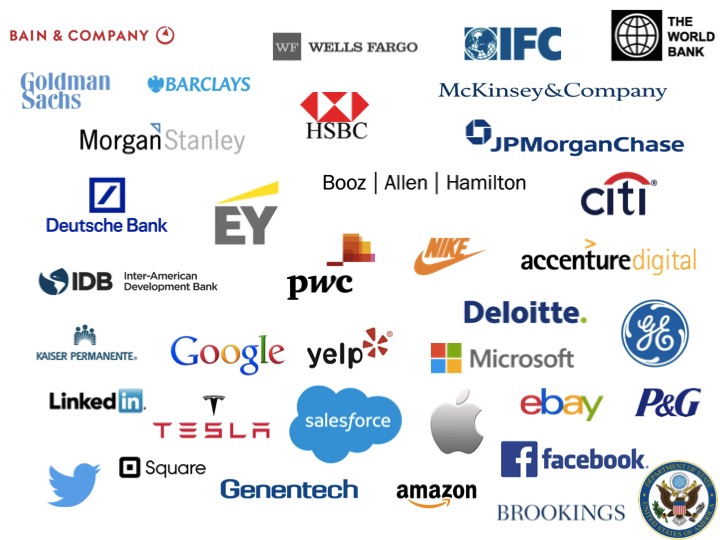 Where Our Candidates Land.
We are infinitely proud of our candidates when we see this image, and honored to have been a part of their journey. Many of our old candidates now serve on our coaching platform and are available to our current candidates & clients.
how we help
Do what you love! It's even a hashtag — #DWYL. But we are experienced enough to know that finding a job you like — much less love — is a major challenge. We are here to help. If you are in an active job search, considering a career switch, or trying to figure out how to make progress in your current position, please talk to us!
We offer career services and products at different price points in order to meet the needs of all job seekers no matter what their budget. We offer some of our best content (e.g.. our interview videos) FREE because we believe in a level playing field and that everyone should have access to a base level of career education.
Career Guides
Our downloadable documents contain best practice for everything from resumes and cover letters to LinkedIn. Our 30-page LinkedIn Guide is offered for free. Other downloads range in price from $1 to $8.
Workshops
Workshops or group coaching is more cost effective and also an excellent way to learn from peers, compare notes, and get support. Our events are delivered online or in-person. If you're interested in bringing us in for your group, we'd be thrilled to collaborate.
Individual Coaching
Our most popular product, and where we shine above the competition, is coaching. This is what Careerly founder, Hira Fernando, started with, and her model for industry-based career coaching by the practioners themselves has produced stellar results over half a decade.